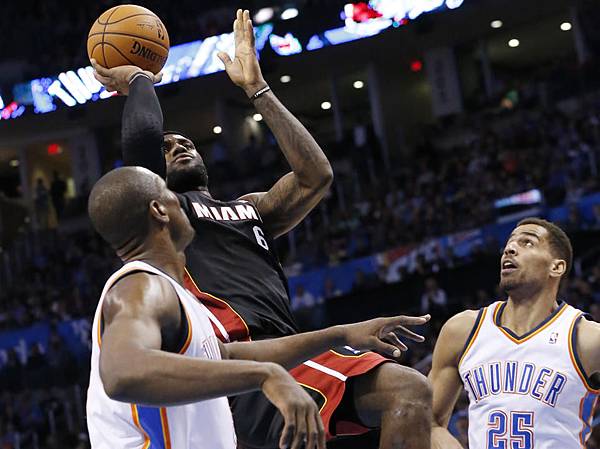 原文網址:
http://hangtime.blogs.nba.com/2014/02/21/film-study-the-heat-contest-in-okc/
The Miami Heat were not a very good defensive team in the dog days of the season. They ranked 27th in defensive efficiency between Jan. 1 and the All-Star break, a stretch that included a game against the Warriors when they got picked apart by David Lee, a game against the Knicks when they clearly weren't engaged all game, and a game against the Thunder when OKC shot 16-for-27 from 3-point range.
邁阿密熱火的防守在球季中段表現並不理想,從年初到全明星週這段期間,他們的防守效率只能在全聯盟排到第27名,其中包括了對上勇士那場敗仗,David Lee徹底撕裂了他們的防線,還有對上尼克整場恍神的比賽,以及被OKC三分球27投16中的慘敗。
Coming out of the break, the Heat won in Dallas, but allowed 106 points on about 94 possessions. It was an offensive win in which the Heat shot 57 percent.
明星賽後熱火雖然擊敗了小牛,卻讓對手在94次進攻機會中拿下了106分,熱火能贏靠得是57%的投籃命中率。
Thursday, however, was one of those nights when the Heat turned it on defensively. They held the Thunder to 81 points on 95 possessions, forcing 20 turnovers (nine in the first quarter) and holding OKC to just 2-for-20 from 3-point range.
然而在週四的比賽中,熱火重新找回了防守強度。他們只讓雷霆在95個進攻機會裡攻下81分,並造成了對手20次失誤(第1節就發生了9次),三分球更是只有20投2中的慘劇。
And this wasn't just a bad shooting night. The turnovers had a lot to do with Russell Westbrook playing his first game in almost two months, but the missed shots were about the Heat defense imposing its will on the Thunder.
這不能只歸咎於雷霆籃子不準而已。當然失誤跟休息兩個月後首度出賽的Russell Westbrook有很大的關係,但那些找不到籃框的投球則是熱火強力防守的結果。
All you have to do is look at the contested and uncontested shots from the Thunder in the two games, which you can now find in the Player Tracking tab in our NBA.com/stats boxscores, thanks to SportVU.
只要看看雷霆這兩場與熱火交手的數據,就知道防守是否有對位造成的影響。這些經由SportVU收集的數據可以在NBA.com/stats裡找到。
In the Jan. 29 meeting, the Heat contested 37 (46 percent) of the Thunder's 80 shots. On Thursday, the Heat contested 48 (65 percent) of the Thunder's 74 shots.
That's a big difference. And the difference is bigger when you look at just the Thunder's jump shots.
在1/29那次對壘,雷霆80次的出手,熱火只成功干擾到37次(46%),不過週四這場比賽,雷霆74次的投籃就有48次(65%)被防守者跟上。這可是個很大的差距,而當你只計算跳投的部份時這個差距還會更大。
According to SportVU, on Jan. 29, only 13 (25 percent) of the Thunder's 52 jumpers were contested. On Thursday, 18 (51 percent) of their 35 jumpers were contested.
Looking at just 3-point attempts… Only seven of the 27 were uncontested on Jan. 29, while nine of the 20 were contested on Thursday.
根據SportVU的資料,在1/29時雷霆的52次跳投只有13次(25%)有人守,第二次的交手則變成了35次跳投有18次(51%)被對位。
再縮小範圍到三分球,上次熱火跟上的比例是7-27,而這回進步成9-20。
Here are some examples of the Heat being on point defensively…
從下面的例子看看熱火是怎麼防守的
First, we have a quick-hitting dribble hand-off play from Serge Ibaka and Kevin Durant, in which Shane Battier and LeBron James trap Durant and Chris Bosh rotates over from the weak side to force Ibaka into a rushed jumper …
影片連結1
當Serge Ibaka遞球給Kevin Durant時,Shane Battier和Lebron James聯手上來包夾使得球又傳回去,而Chris Bosh從弱邊過來的補防迫使Ibaka匆促出手而不進。
Here's a long possession in which the Heat successfully defend a Reggie Jackson/Ibaka pick-and-roll, an Ibaka post-up, and a Westbrook isolation. The result is Bosh again contesting Ibaka's shot …
影片連結2
這裡又是一次密不透風的成功防守。熱火先是瓦解了Reggie Jackson和Ibaka的擋切,再阻止了Ibaka的低位,又擋住了Westbrook的單打,最後Bosh再一次成功干擾到Ibaka的投籃。
Throughout the game, Dwyane Wade was particularly engaged. The Heat are at their best defensively when he's healthy and active. They've allowed just 101.9 points per 100 possessions (a rate which would rank eighth in the league) in the games he's played and 105.8 (a rate which would rank 23rd) in the games he's missed.
在這場比賽中,Dwyane Wade也非常關鍵,當他健康時熱火才能展現出最堅強的防守。Wade出賽時熱火的DefRtg%是101.9分,反之當他缺陣時熱火的DefRtg%就上升到105.8分,只能排名聯盟第23。
But the Thunder brought some of their problems on themselves on Thursday. Here's Derek Fisher not doing much with Perry Jones' screen and taking a contested, pull-up 3-pointer with 11 seconds left on the shot clock…
影片連結3
不過雷霆也有自己的問題。上面的影片中Derek Fisher無視Perry Jones的單擋,直接在Wade面前拔起來投三分,可是進攻時間還有整整11秒鐘。
And here's Fisher again, not making the extra pass and taking another contested 3-pointer with 10 seconds left on the clock …
影片連結4
Fisher又一次無視防守及進攻時間的濫投…
The Thunder rank seventh in offensive efficiency, but 26th in assist rate, assisting only 55 percent of their field goals. They're not a team that moves the ball that much and, with the talent they have in Durant and Westbrook, usually don't have to. If you get Westbrook out in the open floor and get Durant some catches at the elbow, you're going to put the ball in the basket at a pretty good rate.
儘管雷霆是聯盟第7名的進攻強隊,不過他們的助攻率只有55%,排名第26。他們的進攻不重視球的傳導,靠得是Durant和Westbrook過人的天賦。只要你讓Westbrook跑起來打或是讓Durant在肘區拿到球,最後球被投進籃框的機會將會非常高。
There is no correlation between assist rate and offensive efficiency. There are great offensive teams with low assist rates (like Houston and Oklahoma City) and bad offensive teams with high assist rates (like Chicago and the Lakers).
助攻率和進攻效率其實沒有太大的關聯,聯盟中有的球隊進攻很強但助攻率偏低(像火箭和雷霆),也有球隊助攻率很高但進攻卻不太行(像公牛和湖人)。
However, there is a decent correlation between assist rate and offensive efficiency against the Heat. With Miami's aggressive, trapping defense, the teams that have success are usually the ones that move the ball quickly and find open shooters on the weak side. And the open shot is usually more than one pass away.
不過當對上熱火時,助攻率和進攻效率之間的關聯性就變得相當緊密了,這是因為熱火積極的防守策略,能夠突破這種嚴防的球隊通常都得做到球的快速流動,才能製造弱邊空檔出手,而且要創造出空檔可能需要不只一次的傳球。
The Thunder had success against the Heat in January, but this time Miami was engaged defensively. That'll probably be the case again if these teams met in June, so Oklahoma City will have to do a better job of making the extra pass and finding more uncontested shots.
雷霆在1月時痛宰熱火,但這回熱火反擊成功了。OKC想贏球就必須做更多的導傳來找尋更多的空檔出手才行。